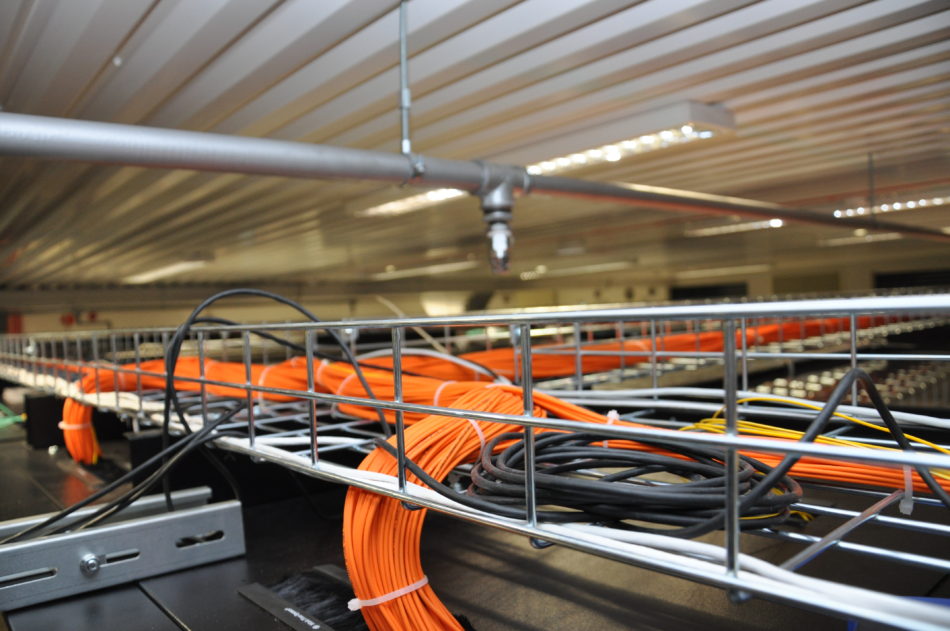 If you ever visit data center, you should know that cabling is really important part there. Today Jeff Hodges, who's working in data center infrastructure cabling for DataNetIT, shares five key trends in data center cabling.
1. New Data Centers Designed for Modularization
A notable trend that affects structured cabling is the transition to new data center construction to support demands for superior networking capabilities. By getting involved during the construction phase, organizations can make important decisions for modular data center cabling solutions that will take them into the future as technology evolves. Planning early also supports scalability in data and resources, reduces overall infrastructure costs, and increases profits later. Startup cloud and colocation data centers are first on board since, they're constructing new data centers at a rapid rate to keep up with companies moving to virtual data center solutions.
Specifically designed modular data centers are portable, employing unique pre-engineered modules and components, providing a scalability to accommodate a converged infrastructure where "location" is a factor. These designs are called containerized data centers and portable modular data centers. Some build-as-you-go options are available. Whether you need standard modularization or an actual modular solution, the data cabling infrastructure is the foundation for both.
2. Network Infrastructure Optimization
For companies that lack the option of a new construction edge on data cabling, although they're prepared to upgrade their current data cabling, data center providers are fast becoming a more economical way to integrate network infrastructure optimization. Data center providers are finding copper and fiber technology to be sound for current networking infrastructure. Although the networking demands are the same, the need for faster and more-streamlined connectivity for storage, apps, servers and desktops is critical. The way to get it is through optimized data cabling.
Whether an IT staff decides to improve the on-premises solution or move to a cloud-based solution, data-cabling optimization is no longer a choice but a requirement as leaders prepare to take their companies into in a more technologically advanced environment. A common approach to an optimized network infrastructure involves standardization in components such as fiber and copper cabling, cabinets, racks, and data center designs. This approach, in conjunction with a physical-layer cable-management system, yields an organized and accessible system that provides valuable connectivity data at any given time.

3. Seamless Cloud Initiatives
As the demand for IT agility increases across the board and companies begin to prove the success of cloud-based alternatives for their networking needs, leaders are looking to either design or invest in seamless cloud initiatives. Doing so requires the network-cabling industry to provide products for integrating state-of-the-art data-cabling infrastructure to support these seamless cloud initiatives. Ultimately, those products offering or relying on efficient, cost-effective cloud solutions that can handle growth, big data, security and performance demands are in the best position to handle consumer expectations for adaptability, measured services and growth. Also, entrepreneurs are relying on seamless cloud initiatives such as fiber- and copper-technology upgrades for their own data cabling.
Whether you're on the selling or receiving end for seamless cloud initiatives, you're cognizant of the need for new focuses on security, higher transmission speeds and flexibility, and cabling infrastructure is where it starts. Today, premium cabling is needed to meet these high-end demands, and companies that expect to expand have few alternatives. There's little argument that a seamless cloud solution allows a scalable alternative in which physical layers can be added (or removed) in a phased approach for rapid deployment (or scaling back). Data cabling is at the heart of seamless cloud initiatives.
4. Network-Convergence Culture
Henry Jenkins coined the phrase convergence culture as "where old and new media collide." He references various types of convergence cultures: media, technological, economic, social, cultural and global. Although not new, the concept of convergence is trending for data centers in terms of networking and data cabling. Service providers incorporate phone, video and data capabilities using one network to offer attractive services in new markets. Convergence is also referred to as an intermodal approach—a transportation-related term that means "a container carried by varying modes of conveyance without being unpacked." Convergence is a trend that started some time ago, and it continues to evolve into new markets, especially in the data center market through data cabling. It can produce cable density or cable minimization to ensure the right network capacity using the right architecture:
Fiber-optic cabling across server racks and storage arrays that are designed to handle more density and yet reduce cable pathways for improved air flow
Input and output convergence at the top of the rack to help simplify data cabling and offer more design flexibility
Accommodation of higher-density connectivity and higher-capacity cable management for better performance and protected cabling environments
The ability to combine current digital technologies for optimum networking infrastructure using premium data cabling is a convergence culture IT leaders are excited about. It's a continuing process given the rate and scale at which technology advances.
5. Virtualization Services
Studies show that over 50% of small to enterprise-level businesses are running their workloads on virtual machines, and data center providers are in the 95–100% range for virtualization services. Virtualization technology has continued to prove a scalable, cost-efficient networking option. There are four common types of virtualization functions: server, desktop, network and storage. Structured data cabling is an essential component of network virtualization, whereby clients can easily create or overlay new virtual networks on an existing network topology. By planning IT services in a virtualized data center, the data cabling can be designed for maximum efficiency in every way, from electricity to capacity. Power efficiencies are gained when physical machines are boosted by many virtual machines for lower idle times.
Virtualization has an effect on cabling as cabling has an effect on virtualization. With shared storage, web servers commonly connect to a network using a Fibre Channel, iSCSI, SAN or NAS file system. Robust cabling is required for uptime and to support many virtual networks for routing and forwarding using simple network cabling links. Given the popularity of virtualization for modern IT infrastructure, the foundation in structured cabling is a critical component to business operations.
The post originally appeared on: www.datacenterjournal.com